How to decorate outdoor spaces: 2018 trends for bars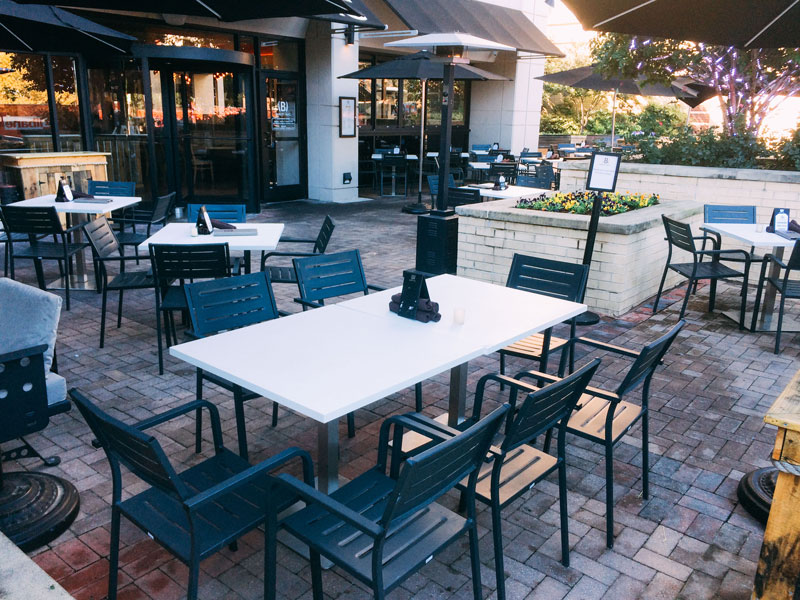 We've always known it: the style of a bar makes the difference. The customer wants to be entertained by the environment, he's looking for positive feelings and an atmosphere in which to feel authentic. Choosing the right pieces of furniture is essential to create that unique atmosphere and with the approach of summer season, the outdoor space becomes even more important.
Whether it's a garden area or a urban space, outdoor space is a powerful lure, deserving of special care. This year the trends to draw inspiration from are very intriguing.
Minimal lines and industrial chic style
In 2018 the industrial style, reinvented in a more modern and chic way, confirms itself to be a choice to bet on. Excesses are banned, simple lines stand out and weights lighten. The material of choice for outdoor tables and chairs is metal, often in darker shades as opposed to the covers (umbrellas, sails and so on), which are rigorously light colored to enhance luminosity. Retro and minimal geometric lines are integrated in the design of decor pieces as well as fabrics, such as seat pads and chair cushions.
A relaxing atmosphere
Relaxation is a key word for customers. Chairs and stools must be comfortable, as a result armchairs become wider and fill up with cushions. Quiet and intimacy are very important: according to the possibilities of the location, it's a good idea to use a few tricks to create private spaces, by rearranging seats, sails and plants. Small expedients such as candles and decorative elements at the tables make a huge difference in creating the atmosphere.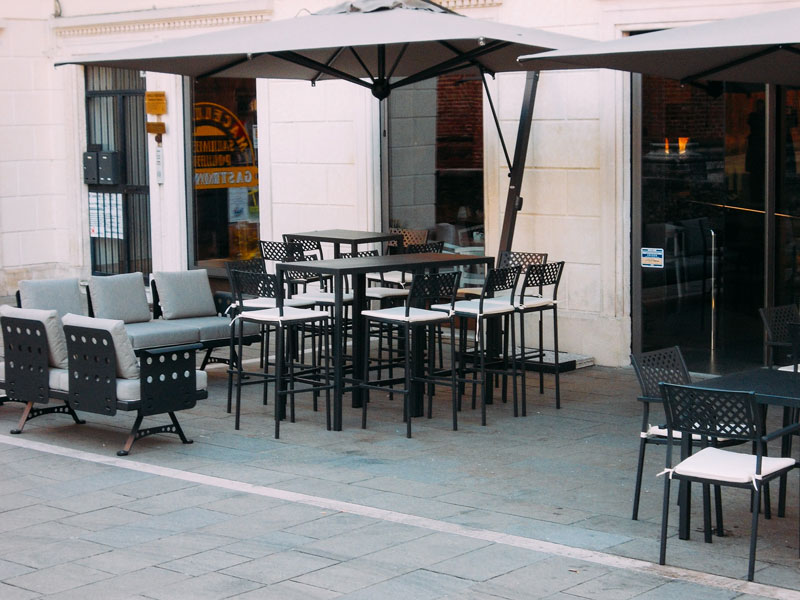 Synergetic hospitality and environment
Deeper relationships with the surrounding environment. result in positive feelings for patrons. Furniture choice shouldn't be standardized and this particular aspect should always be taken in account. We should rather think about how to evoke a natural garden or how to recreate a safeguarded and coherent oasis in order to enhance hospitality.
We can do this by using colors that mimic natural elements and create an organic and pleasant contrast. Or again, by taking advantage of light effects, as well as by using the shapes and lines of original furniture – such as in our Fancy Leaf model.
References to the bohemian style, are interesting solutions too. Tables and chairs of different shapes, in bold and vivid colors and heterogeneous textures, as well as large plants: all give vitality to the space and refer to the themes of environmental sustainability.
The importance of eco-friendly
Environmental respect is now a trend of absolute importance, also in the field of furniture: 2018 will make us reflect even deeper on ecology and sustainability. Plastic furniture is not recommended, in addition to not being easily recyclable, it also is less resistant than steel furniture. Steel is environmentally friendly, mostly because it can be endlessly recycled, unlike other materials that lose their technical characteristics during the recycling process and are therefore destined for disposal.
RD Italia offers steel solutions with a high resistance to corrosion, thanks to the zinc coating on both sides, inside and outside. Be inspired by our product catalogue or by customized projects we have created for our customers in Italy and around the world.