A redesigned food court for the Campo di Fiori Mall in Gavirate – Varese (Italy)
Milan-based architecture firm Hit arcHITects has recently completed the renovation of the foodcourt of the Campo di Fiori shopping center in Gavirate – Varese (Italy): a lake-view dining area from the winding structure that invites visitors to take their gaze to new and different perspectives and to discover new points of view. Style and color between homogeneity and individualization for a gastronomic offer that is increasingly becoming the driving force of this type of business premises.
The renovation project on the fifth floor of the Campo dei Fiori shopping center in Gavirate in the province of Varese was curated by the studio HIT arcHITects by immagining a path which invites customers to discover new flavours. The strategic objective of the project is twofold: on the one hand to increase the average length of stay in the facility; On the other hand, to attract new potential patrons who are looking for a stimulating place for lunch or dinner, thanks to the extended opening hours.
The 900-square-meter, three-hundred-square-foot, space welcomes customers without that distinct traditional "catering space" look. The public areas of the food court were "robbed" of the typical elements (tiles, communication and menus, tables and trays). Even the trash cans are masked and camouflaged between the sinuous curves of the design, which characterizes the platforms and the spaces dedicated to the outdoor tables, in decorated cast iron and marble, accompanied by metal chairs. Everything is strictly Made in Italy. Visible throughout the whole structure, the food court is "the space that was missing" with surprises and new colors for the most demanding palates.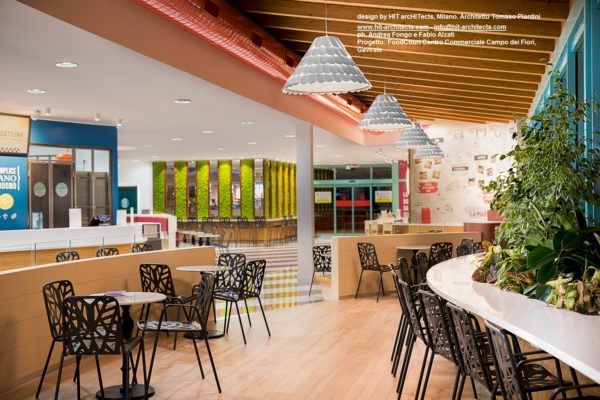 Different seating arrangements provide a solution for every occasion and every timing: both for the single customer in a hurry, as well as for groups of friends gathered in the evening.
design by HIT arcHITects, Milano. Arch. Tomaso Piantini
www.hit-architects.com
ph. Andrea Fongo e Fabio Alzati