How to choose outdoor tables for a restaurant
Tips for choosing the tables that can be placed in the garden outside the restaurant.
The management of a restaurant is in many ways associated with considerable responsibilities. Firstly, the corporate image, which cannot and must not be neglected at any time. Through the perceived image, customers in turn create an idea that they pass on outside the venue and take with them: among friends, colleagues, acquaintances, family members.
If every detail can make a difference, the choice of tables must not be left to chance. Each customer has his own "favourite table", from which we can already understand the meaning of this piece of furniture in the context of the situation.
So, where do you start setting up a restaurant without making a mistake? To create a pleasant, inviting atmosphere that suits the style of the place? The starting point, of course, is quality.
Quality first
The quality of the materials always comes first, especially when it comes to outdoor tables. It is advisable to make sure that the sheet metal and tube profiles from which the supplements are made are coated with thick zinc on the outside and inside.
The complements of this type are subjected to the "Sendzimir" galvanising process, in which the materials are immersed in a bath of zinc and aluminium at 700 °C. A treatment that makes the purchase durable and resistant to corrosion, salt and various environmental conditions.
FOTO 3: Tavolo Dorio, RD Italia
–> Discover also how to furnish the garden on the balcony of your club!
Style also wants to make its contribution
Of course, style also deserves attention. Shapes, lines, curves and colours must find their maximum expression together and be coordinated with the environment, the architectural structure and the landscape context in which they fit.
Whether classic, modern or design-oriented, the outdoor tables must also reflect the overall style. Possibly, with maximum freedom of composition, for example to transform a table from 8 to 4 tables from 2 or to 2 tables from 4 and so on.
Finally, an additional point goes to the tables and chairs for outdoor easily stackable, designed to facilitate the time of winter storage even for restaurants that have small warehouses or are already widely occupied.
An extra note, but personalized
We have said that attention to detail says more than a thousand words, so we can not overlook the importance of adapting the furniture by applying or engraving the logo of the restaurant on the furniture.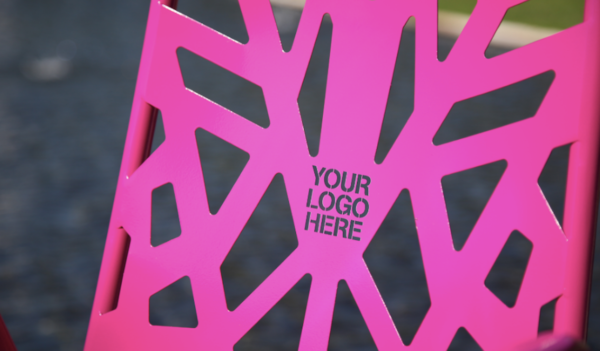 An outdoor table or chair, engraved and personalized with the coordinated image of the restaurant, conveys the same care with which the entire working team ensures the success of the daily work.
Would you like more advice on choosing outdoor tables for a restaurant? Contact us!