We introduce the new Catalogue 2022
RD Italia launches its new Catalogue 2022 with new outdoor furniture solutions for clubs and restaurants.
We finally introduce the new Catalogue 2022 RD Italia, with great news for the outdoor furniture of bars, pubs, clubs and restaurants.
Divo & Diva, modular couch in a click
Our flagship product this year is the Divo & Diva modular couch: a unique design feature composed of a modular iron frame that allows you to turn several individual seats into a multi-seat couch.
Divo & Diva uses a practical interplay of hooks to render the space easily customizable as needed.
Since more than 30 years, we create furnishing ideas for gardens, houses, pubs, clubs and restaurants. We know the value of quality, that is why our products are the result of a continuous research. It is our goal to achieve the perfect balance between functionality and aesthetics.
Connect: The partition panel
In order to meet European requirements for room adaptation during the Covid-19 emergency, we created Connect metal dividers with extra Plexiglass protection.
These partition panels provide protection between tables against contact with other guests. They can also be connected together to create a single structure and define specific areas of the rooms.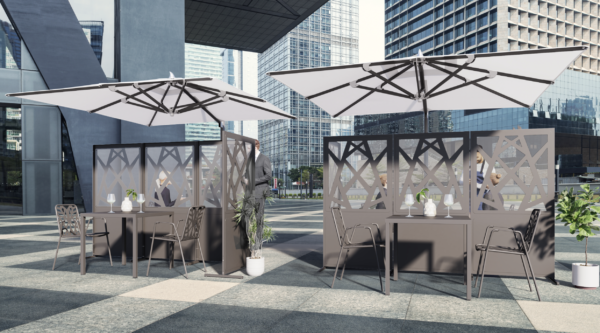 However, this is not all that's new: the 2022 RD Italia Catalogue also includes the restyling of the highly successful Dorio Collection and a wide range of solutions for furnishing the outdoor areas of hospitality businesses.